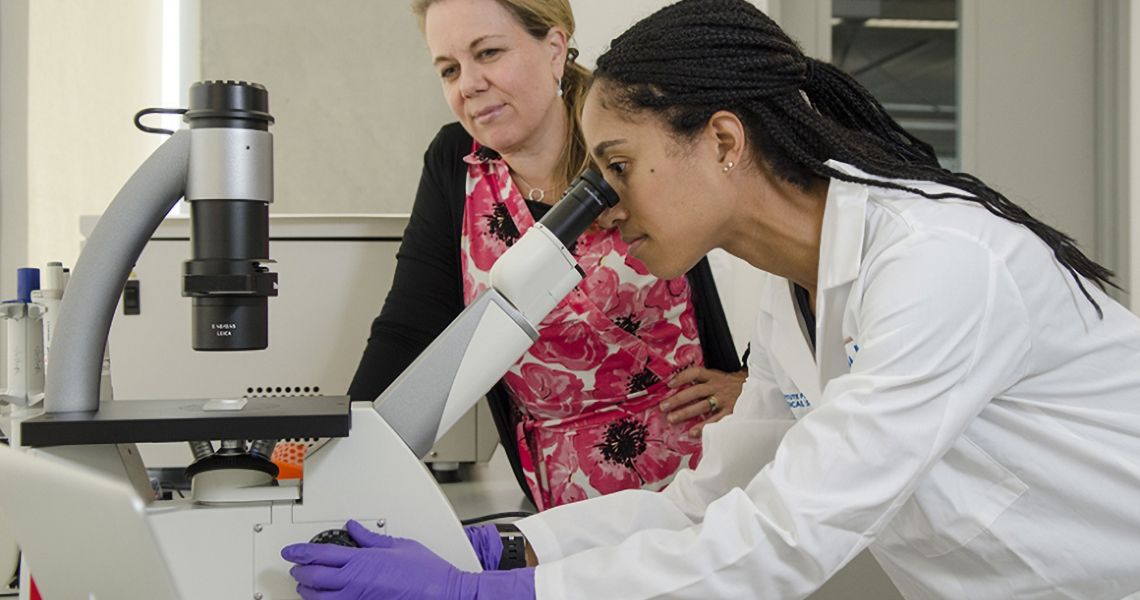 PhD programs in Cancer Biology, Genomics & Bioinformatics, Microbiology & Immunology, Neuroscience and Pharmacology & Physiology are all centered on a core curriculum. The common IBS core curriculum includes interdisciplinary cell and molecular biology and physiology courses, biostatistics, and professional skill courses in scientific writing, biomedical careers and responsible conduct. Foundation courses in each PhD program begin in the second semester, while still allowing student flexibility.  The required and elective didactic work is designed to meet the specific program's requirements and the student's needs in preparation for dissertation research. 
Students are expected to complete approximately 12 credits of course work in each semester for the first two years (or 48 hours before the qualifier and full-time dissertation research). A total of 72 credits is required for graduation.
Rotations and selection of research mentor
Research rotations are critical for students to become familiar with ongoing research projects and to choose a PhD dissertation laboratory. In addition, rotations broaden student research skills, and rotation mentors may become research collaborators and committee members.  Three, ten-week rotations are carried out in the first year, and must be performed in different laboratories. 
All IBS PhD trainers may serve as mentors for laboratory rotations, and only one rotation student may be in a faculty lab at a time. For students who have previous experience with an IBS trainer laboratory, only one rotation may be performed in that laboratory. By the end of the first year, it is expected that the student will have selected a program and will have identified a PhD research mentor and PhD program. 
Helpful resources for choosing a lab include this article from the Weizmann Institute of Science, and this guide from Washington Univeristy in Saint Louis.
Grant-style qualifier and dissertation research
Students complete a grant-style qualifier examination at the end of the second year. The examination is "on-topic", allowing students to prepare a strong thesis proposal. Following successful passage, PhD candidates form a thesis advisory committee consisting of the research mentor and at least two other faculty members. 
After successful completion of the qualifier, students pursue dissertation research, with periodic thesis advisory committee meetings and reports due every semester to ensure good progress. Following satisfactory completion of the dissertation and oral defense of the dissertation research, the PhD is conferred. 
Learning Outcomes for Biomedical Science PhD
Discipline-specific knowledge, including a review of existing literature, an understanding of current working models and the articulation of gaps in knowledge.
Research skill development, including the design of rigorous experiments to test hypotheses, technically perform reproducible studies, critically analyze and interpret data
Research communication skills, including the ability to write and speak effectively about science and research to a variety of audiences
Research leadership, including the ability to form and manage teams of diverse participants to achieve project goals, self-assessment to identify interests and strengths, and agency to seek professional and career opportunities. 
Research professionalism, including the responsible conduct of research, authorship, research with human, animal or large datasets, laboratory safety and skills as mentor and mentee.